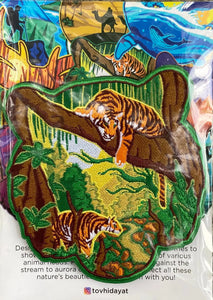 This is a new Series by Outdoor and Wildlife inspired Patches, if you are into Bushcraft and Adventure and Exploration this is some Morale Boost on your Trail.
The Wildlife Series has 10 different embroidery Designs right now
Sizes vary from 3 to 4 inch with Hook Backing and Loop Piece attached. 
Design by TOV 
On the back there is a hook velcro surface, which is sewn with the patch. Thus the patch can be fastened on each loop surface completely simply. Loop Counterpiece attached. The compact size allows a quick and individual attachment to patch surfaces such as basecaps, backpacks, jackets, vests, helmets, etc..