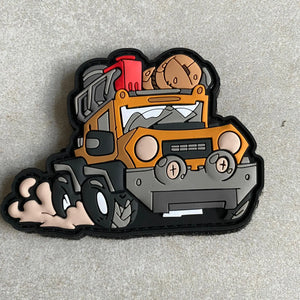 Whether you're aiming to get your kids started early or to please the kid in us,  we've got you covered with the new kids patch collection. with awesome Dinos, cool School gear and rad automobiles should get them started.

Unleash the patch kid in you and collect them all!
The Kids Patch Collection "My first Patches" is for Schoolkids that want some extra cool Patches on their Bags, Jackets or Caps. The first Series includes 27 different Designs from various Themes for Kids. This is the first Wave of the Season 01
They are all around 2.5 inch high and come with hooks sewed onto the back so they hold on the loop counterpart which is also attached, you can sew that onto the Clothes or use any other Loop Part. Design by HIWEZART.COM - Stocked and Shipped from Charlotte, NC
All Material used in our Products passed the REACH Test in 2020
The Collection 2020
Kids Patch #2 Car.