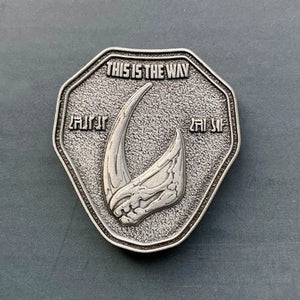 Metal Pin with 2 Butterfly clutch 1.1x1.5 inch 29x30mm
Putting a pin, or several pins, along the neckline of your dress or blouse can add pizzaz to your look. If you have one pin, place it in the center of the neckline. Alternatively, you can place the pin, or pins, off-center. Be sure to space them evenly and balance out the sizes.
Shop for our latest pins, patches, collectible items, and t-shirts.
Express your unique personality by wearing one of the best custom lapel pins, Mudhorn lapel pin is one of our collectible item, get one and enjoy wearing one of these cool lapel pins.

We have a vast variety of pins and patches so you can find a metal pin that suits you. You can checkout our pin collection for the very best unique or custom pins and patches.